The First Group of Guests in 2014
2014-01-26 10:48:52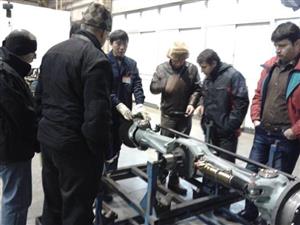 The First Group of Guests in 2014
In the afternoon of January 5, we ushered our first group of guests of the new year in Zhengzhou airport- five Iranian technicians from HEPCO who were participating in YTO Product Training Courses.
HEPCO is a strong company which is specialized in heavy machinery manufacturing in Iran. It was once the agent of New Holland in Iran (now the cooperation was terminated). HEPCO is the new cooperation partner in agricultural machinery in Iran.
The purpose of this training is to let HEPCO's technicians be familiar with YTO products quickly, and to prepare for the sales and service of YTO products in Iran. The courses last for 10 days from January 6 to January 15, containing YTO-X1304 tractor's operation, disassembly and assembly of main parts, failure analysis and renovation, repair and maintenance, etc.
YTO company paid great attention to this training. YTO International, Ltd., YTO Engine Co., The Third Assembly Factory and other companies had all cooperated closely in all aspects including preparing training material, appointing training lecturers and choosing training sites. The training process was well organized. Trainees studied carefully, showing us their good qualities and professional ethics by overcoming cold weather, different dietary habits and sickness.
The trainees were very satisfied with the training. They expressed that they would continue to study YTO products, making a good preparation for the service of YTO products in the near future, and expanding YTO's local influence in Iran.