Tractor with Loader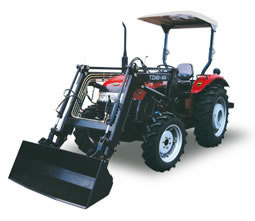 This product has been discontinued and removed from our shelves.
As a Chinese manufacturer of tractor with loader, we at YTO have specialized in the production and supplying of farm equipment for over 50 years. In order to suit different requirements of our customers, we provide three types of tractor with loader, which are YTO-404, YTO-X704 and YTO-X904.
To assist customers in better understanding our tractor with loader, here we give some information about our product:
Our tractor with loader is equipped with a water cooled engine, which features direct injection, glow plug and dual element air cleaner.
The PTO can be independent type or semi independent type. The safety interlock is available.
Rear wet disc brake or 4-wheel oil bath brake is utilized. Parking brake is also adopted for high safety.
Hydraulics with position and draft control, categoryⅠ,Ⅱ 3-point hitch, hydrostatic steering.
The wheel base of our tractor with loader can be 1900, 2314, 2314mm.
For more detailed information, please refer to our PDF.
If you are in search of wheeled tractor, crawler tractor, combine harvester or other agricultural equipment, we at YTO also can help you with your needs. OEM service is available upon request.
Other Products