Wheel Asphalt Paver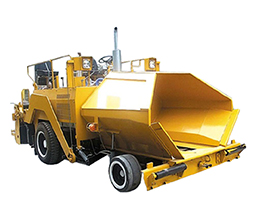 The 2LTLZ45E wheel asphalt paver is often used during the construction of rural roads, urban roads and plaza. It is one of the most commonly seen styles of construction equipment for construction companies.
The asphalt paver features compact structure and easy operation. Due to innovative design of double hydraulically-extendable screeds and an auto level sensing device, it offers high paving density and smoothness. All wearing parts for the road paver are fabricated from premium quality anti-friction materials, which effectively improves the machine reliability.

Main Performance Features
1. Performance engine
The wheel-equipped asphalt paver is powered by a 55kW diesel engine which features water cooling, strong power, high reliability, and great starting performance in low temperature environment.
2. Independent control of scraper conveyor and auger
The independent operation for left and right side scraper conveyor and auger makes the wheeled asphalt paver easy for operation. The auger can be mechanically stretched to facilitate material spreading. The auger blade made of antifriction material employs the knock-down design, which makes it convenient for replacement. Thus, the lifespan of auger is extended.
3. Wide viewing angle; left and right movable control panel
The wheel asphalt paver provides operators with wide viewing angle, ensuring safety and convenience. The control panel integrates all control functions, and can be moved left and right according to user demands. This makes the asphalt paving equipment simple in operation and also helps reduce the work intensity of operators. This is also one of the reasons why the paving machine has high working efficiency and paving quality.
4. Automatic leveling device ensure high road surface evenness
Due to the automatic leveling device, the asphalt paver meets the demand for freeway construction, with pavement evenness of 3mm/3m. The leveling device supports immediate control and is convenient to use. It avoids invalid fill of asphalt mixture, thus lowering the construction cost.
5. Premium antifriction material for producing the screed and conveyor soleplate
The screed can be steplessly and hydraulically extended to change the width of paving layer conveniently. This is much more time saving than mechanically-stretchable screed design.
6. An electric cleaning system for the fuel system helps reduce the labor intensity.
7. Based on advanced electrical system design, all the controlled components and wire connection for our wheel asphalt paver are numbered according to the circuit diagram, so that the errors can be immediately found for troubleshooting.
Main Technical Parameters of the Wheel Asphalt Paver
| | | |
| --- | --- | --- |
| Model | | 2LTLZ45E |
| Basic paving width | mm | 2500 |
| Maximum width of paving | mm | 4500 |
| Maximum thickness of paving | mm | 250 |
| Minimum thickness of paving | mm | 10 |
| Traveling speed | km/h | 2.29~16.74 |
| Paving speed | m/min | 3.01~13.74 |
| Paving evenness | | 3mm/3m |
| Maximum theoretic productivity | t/h | 220 |
| Hopper capacity | t | 10 |
| Maximum climbing capacity | % | 20 |
| Length | mm | 5850 (transportation:5550mm) |
| Width | mm | 3000 (transportation:2494mm) |
| Height | mm | 2450 |
| Engine model | | 4JR3AG7 |
| Engine Type | | Water cooling with 4 cylinders |
| Engine Power | Kw/r/min | 55Kw/2000r/min |
| Diesel oil tank capacity | L | 143 |
Other Products